City Sights of Rome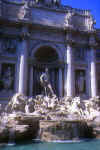 Now to the more modern, even after tasting the delights of ancient Rome there is still so much to see. At the Trevi Fountain, of Three Coins in a Fountain fame, throw in your coins to guarantee your return to Rome. Its central figure is that of Neptune flanked by figures representing a calm and stormy sea. Visit here at night for a truly romantic evening!
In the Piazza Navona, Rome's social centre, whose contours today match exactly the outlines of Domitian's circus for horse racing and games, have something to eat or drink at one of the many open-air cafes, try especially the 'tartufo', chocolate truffle ice cream, delicious.
There are once again many more fabulous places e.g. the Spanish Steps, in the Piazza di Spagna at the heart of Rome's best shopping area. The Monument to Victor Emmanuel (nicknamed, 'The Wedding Cake'), a vast square near the centre of Rome and many more!

Rome also has a great number of beautiful churches to visit including, San Giovanni in Lateran, which is Rome's cathedral church founded by Constantine in AD313, although much has now been restored. See also Santa Maria Maggiore, Rome's finest early Christian basilica built in the 5th Century and the most important church dedicated to the Virgin Mary.