Florence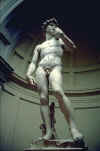 The 'Jewel of Tuscany' and birthplace of the Renaissance, Florence is a treasure trove of architectural and artistic gems. Its palaces, churches and museums are crammed with enough fine art to last a lifetime. few sights are as impressive as a first view of Piazza del Duomo, the Ponte Vecchio or the Piazza del Signoria.
The Piazza del Duomo contains the Duomo itself (the church of Santa Maria del Fiore) started in 1296 by Arnolfo di Cambio but only consecrated in 1496 after contributions by other architects notably Filippo Brunelleschi, whose dome is one of the miracles of medieval engineering.
The Ponte Vecchio, this bridge and its picturesque huddle of overhanging shops was built in 1345 and its shops once included butchers, grocers and blacksmiths all now replaced by expensive jewellery shops.
The Piazza del Signoria offers the Palazzo Vecchio, started in 1299 it was built to house the signoria, the city's ruling council selected from Florence's seven major guilds.

Don't miss a visit to the Uffizi Gallery where you will find the magnificent statue of David by Michelangelo, a sign of freedom for the city of Florence, or a the view of the city from the Piazza del Michelangelo across the River Arno.